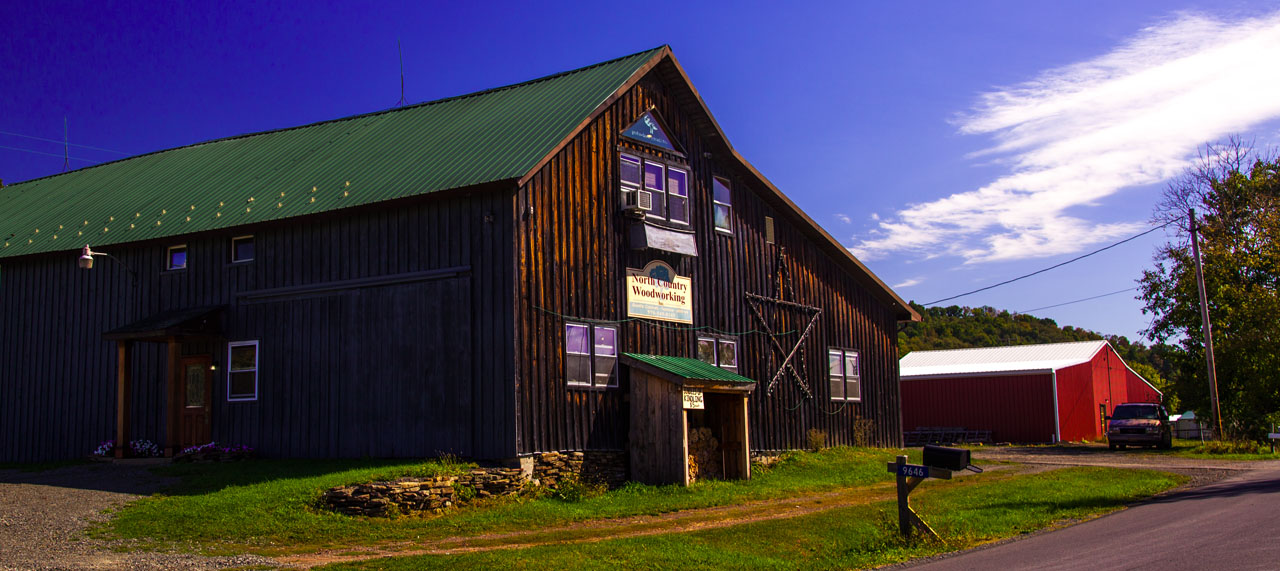 History
North Country Woodworking began in 1978 in Philadelphia as an idea of Pete & Liz McLelland. Pete was a hobby woodworker who made his living as a sales rep for a large carpet manufacturer, while Liz was a school teacher. The carpet company came on hard times and eventually closed, leaving Pete unemployed. 

Having made many gifts and projects for friends with limited hand tools, they purchased some larger tools and Pete resolved to work for himself. At the same time Pete had been helping some friends (Bill Whitlock Sr. & Bill Whitlock Jr.) restore an old store front building in historic Manayunk. They were going to open a hobby shop in the store front and rent the second and third floors for apartments. In return for helping in the evenings, the Whitlocks let Pete set up his first wood shop in the basement. Bill Whitlock Sr. owned a small machine shop and was a great encouragement and mentor to 24 year old Pete who had never worked for himself.

After about a year the basement shop became too small and difficult to get projects in and out of. Pete was then able to move into an old abandoned dairy building on Rector Street owned by Talmadge Memorial Church. There was a lot of room to spread out and more equipment was purchased. Business was good due to the kindness of friends hiring us and word of mouth spreading the news about this new woodworker.

In 1980 Pete Jr. was born and Liz gave up her teaching career to be a stay home with him. Now that was scary with no regular pay check coming in at all, but the Lord provided and the bills got paid. Pete & Liz had some friends in Mansfield, PA (Barb & Steve Trout) who they and others used to visit for 
long weekends in the summer and hunting trips in the fall. They fell in love with the Mansfield area and decided to move there. After making that decision in early 1982 things happened rather quickly, selling the house in Philadelphia, buying one in Mansfield, and moving in April of 1982.

There were struggles getting started in a new community but again the Lord's provision along with a lot of determination kept the business going. After two years the basement of the house became too small for the wood shop. An elderly couple next door (Oscar & Mildred Sherman) allowed Pete to move into an old dairy barn that they no longer used, in exchange for fixing it up. Eventually Pete was able to buy the barn and a small piece of land surrounding it. Shortly after this Pete and Liz got their first business loan and bought more equipment.


Over the last 30 years North Country Woodworking has continued to grow and survive through good times, recessions, and five presidents. We have worked in multi-million dollar mansions and small simple homes, wherever quality workmanship is appreciated. We now have five full time employees along with several part time employees. Pete Jr. currently manages the day to day operations of the shop while Pete Sr. meets with clients, plans out jobs, and orders materials. Liz is responsible for bookkeeping, secretary work, and runs her own knitting and spinning business on the property.
We have been blessed by the Lord and helped by many friends along this journey, and it is still exciting every day to see where it will take us.